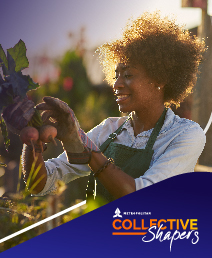 Collective Shapers
The search for Metropolitan Collective Shapers in Polokwane is in full swing, thanks to everyone who applied. We're reviewing all applications and will reveal the successful candidates soon. Watch this space.
OVERVIEW
Together we can shape passion into success
At Metropolitan we believe that it's better to live intentionally with others than it is to live alone. So we pride ourselves on being a business that's there by your side, and actively playing a role in uplifting the communities we serve.
Metropolitan Collective Shapers is our way of making this philosophy come to life. It's a social impact platform that will look to drive real change across South Africa - one village, town or city at a time.
Polokwane, we're starting with you and we're saying to you: 'Together we can!'
Metropolitan Collective Shapers in Polokwane
To inspire our South African spirit of uplifting each other, Metropolitan is taking the farming passion in Polokwane to new heights with the introduction of Metropolitan Collective Shapers. Through this platform, young people who are already active in agriculture or farming will gain access to technical learning, mentorship and business skills development to help them become Polokwane's farming leaders of the future.
Qualification requirements
You could qualify for the learning programme if:
You're between the ages of 18 to 34
You're already involved in the agricultural sector in Polokwane
You're not employed and have no stable income
You live in Polokwane or in any of the surrounding areas
You own a smartphone
Passion for farming is a must!
Applications closed on 15 October 2021
#CollectiveShapers
Why Polokwane?
Polokwane is a hub of vibrance and rich cultural diversity. Even with the high youth unemployment challenge, it remains a city full of hope and opportunity.
Why agriculture in Polokwane?
There are about 41 867 agricultural households in Polokwane. With agriculture being the primary job creator in our economy, it makes sense for us to partner with Agri Enterprises to shift farming from a small interest to a successful everyday income generator for young people in the region. We're giving 20 participants in Polokwane the opportunity to become the first ever Metropolitan Collective Shapers - by being part of a programme that will leave them with skills to help them succeed in agriculture.
Why youth?
We believe that investing in our youth is investing in the future. When we support young people to become tomorrow's employers, the whole community is uplifted.
At Metropolitan, our passion for empowering the youth to uplift our communities is exactly why we're also involved in initiatives like the Youth Content Collective (YCC), which allows young people to use their creative skills to earn an income.