Together we can: Metropolitan employees open their wallets and hearts to the children of rural Eastern Cape
29-06-2021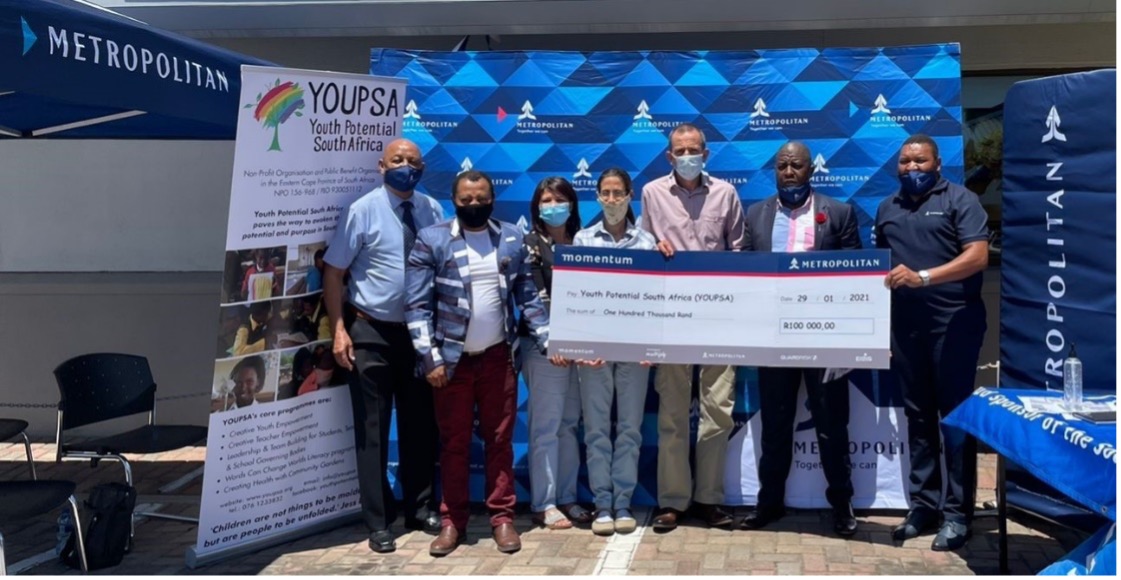 Payroll donation to YOUPSA will help disadvantaged children receive after-school enrichment
On Friday 29 January, financial services provider Metropolitan handed over R100 000,00 to youth empowerment organisation Youth Potential South Africa (YOUPSA), based in the Gamtoos Valley near Port Elizabeth. The donation is part of R260 000 accumulative sum contributed by employees, as part of Momentum Metropolitan Holdings' (MMH) Payroll Giving programme.
The company has found a way to enable employees to automatically make monthly contributions via payroll. This is one of the initiatives under the staff volunteering programme that encourages employees to choose the form of volunteering – from payroll giving to face-to-face and virtual volunteering – that best suits and enables them to give back to communities. This is part of the company's Corporate Social Investment (CSI) efforts, which focuses on youth employment and empowering and uplifting the youth of South Africa.
Explained by Patronella Sono, Staff Volunteer Programme (SVP) Specialist at MMH, "We strive to create opportunities for employees to contribute to their respective communities, and payroll donation is one of the channels we offer to achieve this. Payroll donation offers a convenient way for employees to regularly support causes close to their hearts."
YOUPSA is a non-profit organisation (NPO)that offers enrichment and development opportunities to children from rural communities in the Eastern Cape, and more importantly is the only educational NPO in the rural Gamtoos Valley area, west of Port Elizabeth.
Says Ray Schone, Co-Founder and Director at YOUPSA, "Metropolitan's support means that a larger number of disadvantaged primary school children will be able to attend our after-school programme.
"Our weekly programme offers a safe environment where children feel supported and includes a broad range of educational activities that develop interpersonal skills, including arts and drama, as well as team and leadership-building."
YOUPSA's programme provides hands-on maths learning, literacy skills, social-emotional skills, problem-solving, creative and critical thinking skills through fun activities that develop both physical and mental capability. In addition, children are offered healthy snacks, helping support growing nutritional awareness.
"YOUPSA puts great emphasis on teamwork, life skills and sparking creativity in children, because we know that this empowers them to become both confident and successful young adults.
"We are extremely proud to be able to partner with Metropolitan, and would like to offer our sincerest thanks to its employees. This support will open up new opportunities for our organisation, which, in turn, opens up new worlds for our children," says Schone.
Gordon Simanga: Regional Manager: Metropolitan concludes: "We believe that through the power of the collective, we can better support the communities in which we operate, by connecting our employees to their communities. This helps to unlock new opportunities and provides young South Africans with the support they need to achieve their dreams. Together we can."
Image
From left to right: Mr. Lewaak (Member of the Mayoral Committee) NMM Mbebe (Member of the mayoral committee) NMM Helder Van Staden (Member of the mayoral committee) NMM Alexis Salaman (Co-founder: YOUPSA), Ray Schone (Co-founder & Director: YOUPSA), Gordon Simanga: Regional Manager: Metropolitan) Witness Ntshikilana (Provincial General Manager: Metropolitan)
Media and public relation queries can be sent to [email protected]